Mount Pearl Intermediate Homework Sheets
Tajinn
/
Over 200 skaters of all ages and abilities participated in Canada 150 Skate Day held Dec 10 at Mile One Centre.  Participants were hosted by Skate Canada Newfoundland and Labrador and Prince of Wales Skating Club for an afternoon of skating lessons from the professional coaching staff of Prince of Wales , performances by skaters Boroka Albert, Elin Maskova and Synergy Intermediate Synchronized Skating Team.
The SCNL Community Skate Bank – a Canada 150 Legacy Project  of Heritage Canada was very well-utilized by many first-time skaters and added to today by Sport Newfoundland and Labrador who donated several additional pairs of skates to the skate bank! All participants enjoyed a great afternoon skating, Canada 150 & Rogers swag, snacks, Timbits and Tim Horton's Coffee & Hot Chocolate !
Thank you to the Government of Canada, Heritage Canada, Skate Canada, Rogers Communications, Tim Hortons, Sport NL, Mile One Centre (St. John's Sports & Entertainment Inc) Prince of Wales Skating Club, Coaches &  Volunteers, Wendy Kane, Gayle McClelland, Wendy Mercer and Christine Morgan for making Canada 150 Skate Day a huge success!!!! Read more
MEDIA RELEASE - CALL FOR NOMINATIONS! (2017/02/06)

MEDIA ADVISORY
CALL FOR NOMINATIONS –
2017 POLICE AND PEACE OFFICER OF THE YEAR AWARDS
February 6, 2017 - Nominations for the 2017 Police and Peace Officer of the Year Awards (POYA) are now being accepted. Coordinated by Newfoundland and Labrador Crime Stoppers, POYA is an annual awards program that honours enforcement officers in Newfoundland and Labrador that perform beyond the call of duty both on the job and in the community. Nominations are open until March 20, 2017.
As NL Crime Stopper celebrates its 25 anniversary, 2017 will prove to another prolific year for the POYA program. The POYA program will continue to recognize police and peace officers working in the province and who perform above and beyond the call of duty both on the job and in the community. Three awards will be presented at this year's awards ceremony, one to the police officer from each of the two the provincial police forces as well as a peace officer employed for the preservation and maintenance of the public peace or for the service or execution of civil process. Eligibility for this year's awards include (but not exclusively):

o Royal Canadian Mounted Police
o Royal Newfoundland Constabulary
o Correctional Services Canada
o Canadian Border Services Agency
o Dept. Fisheries and Oceans o Military officers
o Liquor Inspectors
o Fish and Wildlife
o Canada Revenue Agency
o Sheriffs
2017 POYA nominations are accepted from the general public, provincial organizations as well as any provincial police or peace officer. The POYA awards event is being planned for May 19th, 2017 at the Manuels River Hibernia Interpretation Centre, Conception Bay South, NL. For further information on the POYA program please visit www.nlcrimestoppers.com
Newfoundland and Labrador Crime Stoppers is a civilian, non-profit, charitable organization that provides citizens with a vehicle to anonymously supply provincial enforcement agencies with information about a crime or potential crime of which they have knowledge. Cash rewards are offered to people who provide information that leads to an arrest.
MEDIA CONTACT:
Peggy Miller
2017 POYA Organizing Committee, NLCS
709 729 8246
POYA.NL.2017@gmail.com

---
January is Crime Stoppers Month! (2017/02/03)
"
"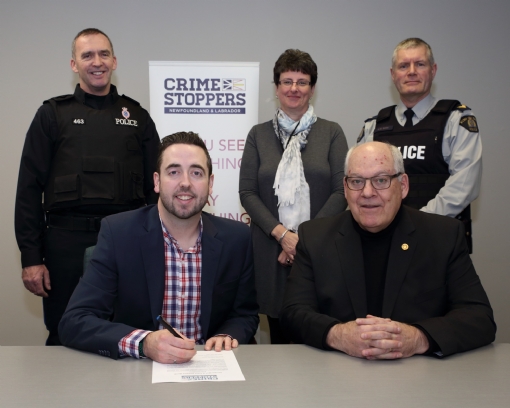 ---
Two men charged in Marystown cocaine investigation (2016/06/24)